I. COMPANY PROFILE:
Organized & established in 1997, ANDORRA TILE ROOFINGS, INC., is 100% owned and operated by MANUEL R. TORRES Group of companies. The plant is equipped with the latest automated & highly mechanized facility for manufacturing pre-painted concrete roofing tile in the Philippines.
Strategically based in Cebu, ANDORRA TILE ROOFINGS, INC. is the only concrete roofing tile manufacturer in the Visayas and is proudly "FILIPINO MADE", and managed by a team of professionals each with a dedication for service and perfection. Backed by foreign expertise & technology, the company is confident that we can meet the demands both in quality & service.
II. PRODUCT:
MANUFACTURING:
Every phase of PRODUCTION from MIXING of CONCRETE through TILE EXTRUSION and even to the COLORING PROCESS, is AUTOMATED. The plant is equipped with the latest imported high capacity automated machinery and technology from abroad. The PRODUCTION LINE utilizes very minimal manpower to avoid human errors and thereby achieving the highest quality concrete roofing tiles in the country.
The COLOR PROCESS, integrated into the PRODUCTION LINE, is of the LATEST TECHNOLOGY used by many countries in EUROPE. By FUSING the PIGMENTATION and using COLOR PIGMENTS that are imported from GERMANY ensures COLOR CONSISTENCY and STABILITY even in our rough tropical climate.
Our machine is an expandable HIGH CAPACITY output that is capable of meeting the rising demands of concrete roofing tiles in the entire country.
SPECIFICATIONS:
The Andorra roofing tile is 16-1/2" x 13" in dimensions and weights 4.5KG. It has an effective coverage of approximately 10-11 pcs per quare meter.
We also have a complete line of ACCESSORY TILE for each application.
ROOFING TILE PROFILE:
Our roofing tile in INTERLOCKING and has 3 WEATHER CHECKS underneath to prevent backflow & 2 WATER CHANNELS on the side to prevent water leaks.
The design and profile of Andorra Tile is used all over SPANISH MEDITERRANEAN countries and has been proven in various conditions.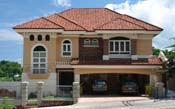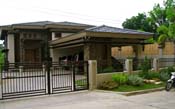 III. SERVICE:
Andorra Tile Roofings, Inc., is ever committed to produce QUALITY ROOFTILES and provide service to its customers before and after sales. We PLEDGE to continuously UPGRADE our machinery to cope with the newest INNOVATIVE TECHNOLOGY in the roofing tile industry around the globe.
TECHNICAL CONSULATION
We offer FREE TECHNICAL ASSISTANCE for roofing estimates, structural analysis and recommendation.
DELIVERY – AVAILABILITY
All Andorra roofing tiles are manufactured in Cebu. Deliveries are scheduled promptly and free of damages. Most common colors are STOCKED and available immediately. Most orders are manufactured in 1 or 2 days and left to cure for at least 28 days before it leaves our factory. Therefore, we strongly recommend ordering a head of time.
We also arrange shipments for outside Cebu City.
INSTALLATION:
We have our own group of installers to install the roofing tile. However, we can assist or offer technical support for outside roof contractors to install the roofing tiles.
IV. AUTHORIZED DEALERS
Andorra roofing tiles are marketed ALL OVER THE PHILIPPINES. We have dealers in DAVAO, ZAMBOANGA, SURIGAO, DUMAGUETE, TAGBILARAN, TACLOBAN, ILO-ILO, BACOLOD, GEN SAN.