"One touch of nature makes
the whole world kin." – William Shakespeare

Montebello Villa Hotel is the only garden hotel at the heart of the oldest city in the Philippines, Cebu, set amidst the sprawling hacienda and graced by the lush foliage of the beautifully landscaped tropical garden, colourful bougainvilleas, lotus-filled lagoon and a picturesque Spanish-inspired villa. Throughout the hotel, a fresh and tranquil ambiance pervades with a combined atmosphere of luxury and comfort.

Montebello Villa Hotel is set on a 5-hectare Spanish-inspired hacienda surrounded by a lush tropical garden. Although located within the historical city of Cebu, the hotel exudes a natural peace and tranquility as soon as you enter the hotel grounds.

Within a short distance is a shopping mall with cinemas, an 18-hole golf course, gambling casino and tourist attractions. Convenient access to and from Mactan International Airport and pristine white sandy beaches of historic Mactan Island.

With 145 well-appointed guest rooms and suites, the hotel features a wide choice of native and international cuisine in its restaurants, bars, and café, business facilities and choice functions rooms for wedding receptions, seminars, banquets and conventions.

Montebello Villa Hotel offers you the gracious service it is known for and warm Filipino hospitality the moment you step in our lobby making your stay as comfortable and memorable as possible.
Click on 'Map' to view location of Montebello Villa Hotel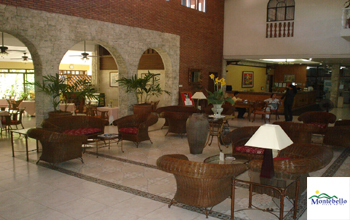 ROOM

DAILY RATE

( US $ )

#PERSONS
(ADULTS)

MAXIMUM
ALLOWABLE
PAX W/ EXTRA CHARGE

Superior Room

68

2

4


Deluxe Room

78

2

4
BOOK ONLINE WITH ILINK.PH!
INSTANT INQUIRY - FILL UP THIS FORM or
SEND ME A MESSAGE (Live Chat Support)
CEBU NUMBERS
+63.32.253-4966 PLDT | +63.32.410-7069 GLOBE
MANILA NUMBERS
+63.2.664-7266 PLDT | +63.2.925-3253 PLDT
CELLPHONE NUMBERS
+63.922.852-5150 | +63.919.991-3828 +63917.626-2242
Explore Cebu Hotels
Explore Cebu Hotels and Resorts
Explore Cebu Tours and Cebu Car Rental